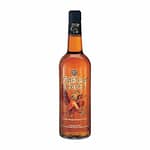 Fighting Cock Kentucky Straight Bourbon Whiskey 103 Proof 750ml
Sale!
Fighting Cock Kentucky Straight Bourbon Whiskey 103 Proof 750ml
-5%
Product images are for illustrative purposes only and may differ from the actual product due to label and design changes. Please contact us first if you are looking for specific versions. Otherwise, we ship based on the product name.
Fighting Cock Bourbon Whiskey formerly carried a 6 year age statement, however that was removed in 2015 and now is bottled as a non age stated (NAS) variant. Based on its labelling, the law requires the youngest bourbon in the bottle to be at least four years old, however Heaven Hill has stated they continue to include older whiskey in the blend.
Classification: Straight Bourbon
Company: Fighting Cock Distilling Company
Distillery: Heaven Hill
Released: Ongoing
Proof: 103
Age: NAS
Mashbill: 75% Corn, 13% Rye, 12% Malted Barley
Color:  Copper
Tasting Notes Of Fighting Cock Bourbon Whiskey
Nose
Banana forward with light vanilla, walnut, and oak in the background. It doesn't have a complex aroma, but its simplicity doesn't mean it's boring either. In fact, it's quite inviting. There is zero ethanol present, which for a sub $20 higher proof bourbon, is surprising.
Palate
Super sweet with a touch of heat. The palate has a nice mouthfeel, and is dominated by baked bananas drizzled with syrup. Additionally, you get a nice amount of heat via a mixed black and white pepper combination, which ends up complementing the sweeter notes. While the palate is also on the simpler side, it's very enjoyable.
Finish
The finish is contrasting compared to the sweeter nose and palate that come before it. The peppery heat carries through to start the finish, and is joined with oak and leather to form a drier overall finish profile. The finish is shorter and disappointingly ends rather abruptly without any fanfare.