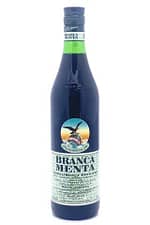 Fernet Branca Menta 750ml
Sale!
Fernet Branca Menta 750ml
-10%
Product images are for illustrative purposes only and may differ from the actual product due to label and design changes. Please contact us first if you are looking for specific versions. Otherwise, we ship based on the product name.
The origins of this appropriately named mintier 'summertime version' of Fernet Branca lie not with a canny marketeer, but a famous Italian singer, Maria Callas. The diva drunk her Fernet with mint (Fernet Branca alla menta) and being a fashion icon, so did many of her devoted fans.
The brand name is properly written as one word – Brancamenta, but due to the bottle label breaking the word in two it is better known as 'Branca Menta'. Brancamenta was created in the mid-60s, when fashionistas began asking for a glass of Fernet-Branca with a hint of mint syrup, thus unconsciously giving birth to a tonic and refreshing drink.
Brancamenta was launched in 1965 and was an overnight success. Brancamenta is made using the same formula of more than 30 different herbs and spices as Fernet-Branca but with the addition of oil of peppermint. Like the original Fernet-Branca, it undergoes a 12 month maturation period in Slovenian oak vats.
Branca Menta is a digestif amaro invented in the mid 1960's when "young drinkers" began asking for mint syrup in their Fernet Branca. It contains peppermint and menthol in addition to the secret Fernet Branca herbal blend, and is 80 proof like Fernet Branca.
Appearance:
Dark, reddy-brown.
Aroma:
Aromatic rooty spearmint with a hint of chocolate sauce and berry fruit.
Taste:
Fresh, slightly syrupy, peppermint, spearmint and mint tea with citrus zest and balancing herbal, rooty notes.
Aftertaste:
Refreshing minty finish with a herbal bitter bite.
Overall:
Best summed up as being a "minty amaro", Branca Menta combines rooty herbal bitterness with invigorating and cleansing mint freshness.