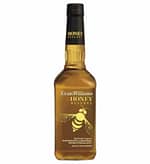 Evan Williams Honey Bourbon 750ml
Sale!
Evan Williams Honey Bourbon 750ml
-20%
Product images are for illustrative purposes only and may differ from the actual product due to label and design changes. Please contact us first if you are looking for specific versions. Otherwise, we ship based on the product name.
By Combining Extra-Aged Evan Williams Bourbon With Real, Natural Honey. Evan Williams Honey Reserve Liqueur Takes Advantage Of Both The Ongoing Success Of Flavored Spirits. Whose Growth Is More Than Double That Of Unflavored Spirits. And The Continued Popularity Of American Straight Bourbon. Called "Very Smooth And Easygoing" By One Reviewer, Evan Williams Honey Bourbon Reserve Liqueur Lives Up To Its Tagline Of "All Flavor. No Sting.".
Nose:
Heavy aged oak is immediately noticeable but by no means overpowering. Digging deeper reveals classic scents such as vanilla and caramel, along with scents of marshmallow, creme brulee, and syrup. The nose is surprisingly rich and for such an old bourbon bringing forth a nice mixture of sweetness along with oak. Interestingly enough, there is only the faintest hint of ethanol.
Palate:
The sip starts with a bit of tannic wood which is immediately joined with sweeter flavors. The result is a big hit of sweet vanilla along with hard cherry candy, honey, seasoned oak, cigar box, and black pepper. The higher proof shows through and adds a little bit of fiery heat to the sip. A medium-bodied mouthfeel delivers a surprisingly sweeter and more flavorful sip than expected for a 23-year-old bourbon.
Finish:
Unlike the nose and palate, the finish shows just how long this bourbon has spent in the barrel. Father time is evident as the sweetness found earlier is replaced by drier notes. The fiery heat carries over from the palate and is joined by wood, pepper, and light cherry Halls. The heat lingers with traces of dry leather and tannic wood, making for a longer than necessary finish, and one that doesn't quite live up to what the nose & palate delivers.
Uniqueness:
Evan Williams 23 Year is an oddball in the Evan Williams family line. The next oldest Evan Williams is 12 years version that is only available in the gift shop and overseas, while the current standard available expressions all fall below 10 years of age. To see an expression aged so far from its siblings is unique in and of itself, however, is aged to 23 years is where things start to get interesting.