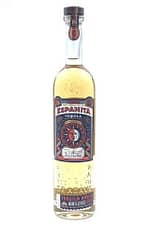 Espanita Anejo Tequila 750ml
Sale!
Espanita Anejo Tequila 750ml
-5%
Product images are for illustrative purposes only and may differ from the actual product due to label and design changes. Please contact us first if you are looking for specific versions. Otherwise, we ship based on the product name.
Espanita Anejo Tequila is aged for 18 months in small American oak casks previously used in Bourbon production. The result is the luxuriously smooth liquor rich in vanilla and caramel notes, which still retains its charming, honeyed flavors of slowly roasted Agave.
Espanita Anejo Tequila is designed to be sipped and savored. We recommend to use either a Glencairn whiskey glass or a stemmed brandy glass. Narrowed, tulip- shaped brim of the snifter allows you to immerse yourself in tequila's delectable aromas in order to better appreciate the complex character of Espanita Anejo.