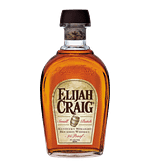 Elijah Craig Small Batch Bourbon 750ml
Sale!
Elijah Craig Small Batch Bourbon 750ml
-20%
Product images are for illustrative purposes only and may differ from the actual product due to label and design changes. Please contact us first if you are looking for specific versions. Otherwise, we ship based on the product name.
Elijah Craig Small Batch Bourbon
Elijah Craig Small Batch has long been a favorite bourbon of many whiskey enthusiasts – to the point where their stocks of 12-year-old bourbon have been under a lot of pressure. The producers made the decision to discontinue the 12-Year-Old expression and create this expression to take its place. It manages to maintain the incredibly high quality that Elijah Craig is known for, including the delicious core of cooked apple drizzled in honey notes. This expression has been well received, taking home not one but two San Francisco World Spirits Competition Double Gold medals!
Citing a surge in popularity and supply not meeting demand, in early 2016 Heaven Hill removed Elijah Craig Small Batch's 12 Year's age statement. At the time, brands such as Weller 12 Year and 1792 8 Year were facing the same issue. In the end, Weller 12 Year kept its age statement and became hard to find and saw an increased price. 1792 lost its age statement and kept its availability and price point. Heaven Hill chose the latter path and began blending younger stock into its non-age stated (NAS) small batches. Years later, the brand is readily available and has maintained its mid-$20 price point.
NOSE:
Vanilla, caramel, nut, and oak pop out from the start. Sweet and light at first, these flavors slightly intensify with time in the glass. On its own, the nose is slightly above average and enjoyable, but also quite simple.
Palate:
The number of flavors is on the thin side, with healthy amounts of oak and vanilla dominating. The bourbon has a nice roundness to its mouthfeel that makes it a joy to sip, but it's more of a blunt oaky and sweet vanilla flavor hit than a complex array of flavors. That said, it's an enjoyable sip.
Finish:
Cinnamon and oak aftertaste that does a good job lingering long after the sip. Mild heat and intensity are adequate as it is satisfying, but overall the finish is average at best.
Uniqueness:
It's hard to see any age statement go away, but at this point, its 12 Year predecessor seems like a lifetime ago and not all that relevant anymore. Truthfully the NAS Small Batch probably aligns to more peoples' tastes than the even more oak heavy 12 Year Small Batch did.