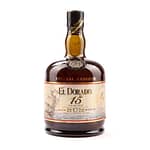 El Dorado 15 Year Old Rum 750ml
Sale!
10%
El Dorado 15 Year Old Rum 750ml
$149.00 
Product images are for illustrative purposes only and may differ from the actual product due to label and design changes. Please contact us first if you are looking for specific versions. Otherwise, we ship based on the product name.
El Dorado 15 Year Old Rum is made from fresh, raw sugar cane cultivated in Guyana's rich, alluvial soil. After the sugar cane has been harvested by hand, it is transported back to Demerara Distillery by barge. There, the molasses is fermented with a proprietary strain of yeast specifically designed to control the Brix of the wash (Brix is the measure of dissolved solids in a solution). Following fermentation, the rum is distilled through Demerara Distillers' antique wooden and copper stills (the stills, which are up two centuries old, were used when the country was still a settlement).
This Rum is matured in bespoke, 45-gallon American oak casks for a minimum of twelve years. The hand-coopered barrels are allowed to mature in a custom-built warehouse, where Guyana's intense heat and tropical climate forces the rum and wood to mingle.
It is a combination of specially selected rums aged up to 25 years. These selected rums are distilled in Enmore and Diamond Coffey stills, the Port Mourant double wooden pot still and the Versailles single wooden pot still before being blended to perfection and aged in old bourbon oak casks. El Dorado 15 Year Old Special Reserve has won continuous major awards over the past decade, possessing the most intriguing and complex character in its class. Perfect for long sipping, straight or on the rocks.
Tasting Notes Of El Dorado 15 Year Old Rum
Nose: Dark brown sugar and thick, gooey toffee, notes of stewed stone fruits, prunes and molasses.
Palate: Sweet and syrupy with notes of sweet spices, thick notes of dark brown sugar and molasses, treacle, toffee and prunes.
Finish: Long, creamy and thick, dark spices.