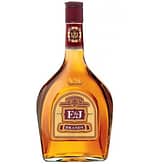 E & J Vs 750ml
$72.96
Product images are for illustrative purposes only and may differ from the actual product due to label and design changes. Please contact us first if you are looking for specific versions. Otherwise, we ship based on the product name.
Ernest & Julio Gallo are the namesakes for the E & J VS Brandy portfolio. Their first brandy sold was in 1938, but their VS was released in 1975. The VS is the youngest in their brandy portfolio and is at least 2 years old. Bottled and blended from a variety of grapes in California.
E&J VS Has Flavors Of Sweet Dried Fruit And Varietal French Colombard, Folle Blanche, St. Emilion And Early Barbera Wine Grapes, Balanced Beautifully With Subtle Notes Of Toasted Brown Spice And Vanilla. E&J VS Brandy Is Soft And Light-Bodied With A Crisp, Clean Finish.
Produced in the us, this is usually referring to brandy distilled from grape-based wine. If the producer uses other fruit, it must be stated on the label. If aged under two years in oak, it must state the word "Immature" on the label. Beyond that, labels such as vs, vsop, and xo mean little as the brands themselves dictate what that means to them.
Tasting Notes Of E & J VS
Lots of fruit on the aroma, but it's not so certain that grapes are the focus. Pineapple, peaches, and cherries come to mind. Fairly full on the palate, the young fruit notes continue to dominate. A small amount of barrel spice and vanilla like you would find in a bourbon are found, but the fruit is the star.