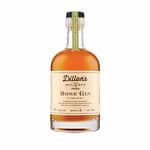 Dillons Small Batch Rose Gin 375 Ml
Sale!
Dillons Small Batch Rose Gin 375 Ml
-20%
Product images are for illustrative purposes only and may differ from the actual product due to label and design changes. Please contact us first if you are looking for specific versions. Otherwise, we ship based on the product name.
This Dillon's Small Batch ruddy gin-based liqueur, infused with rose hips and petals and sweetened with turbinado sugar, will appeal to fans of aperitif cocktails. The bold, herbal aroma and sweet notes of burnt orange peel and clove read almost like an herbaceous root beer or a light amaro, finishing with bracing pink peppercorn. Sip over ice or experiment with Negroni variations.
Dillon's Cherry Gin is the combination of local Niagara Peninsula Cherries and their signature, locally grown 100% Ontario Rye base spirit. The same base spirit they use in many of their spirits. Dillon's philosophy is steeped in tradition and family. Interesting note, among the team, Peter Dillon's title is "Herb and Botanical Expert." That sounds like a fantastic title to have, and one that I hope to one day aspire to. I digress, back to the gin.
Another stunning new spirit from this father-and-son outfit based in Ontario, this rose gin liqueur defies expectations. Not too rosy, not too ginny, not too sweet, instead the alchemy of distillation has transformed the exceptionally sourced raw ingredients into a singular spirit that stands on its own.
Made from a base of quadruple-distilled 100% Canadian Rye rose petals and rose hips are infused into the new make and lightly sweetened. Notes include blended herbal teas, honey, marzipan, vine sap, citrus oils, rose bush, and more.
Nothing to bat your eyes at here; the quality is certainly bound to make you blush.
Tasting Note: 
Dillon's Small Batch seven botanical bases are infused with rose hips and rose petals to create this flavourful spirit. The nose is fragrant and complex with a bouquet of roses, citrus, balsam, and cinnamon which carry on to a viscous palate that ends with a subtle sweetness. Delicious in a classic gin and tonic topped with a strawberry.