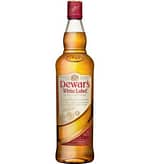 Sale!
15%
Dewars White Label 750ml
$68.98 
Product images are for illustrative purposes only and may differ from the actual product due to label and design changes. Please contact us first if you are looking for specific versions. Otherwise, we ship based on the product name.
Dewars White Label
Drinking scotch is not for the faint of heart. However, that doesn't mean it comes with a huge price tag. That's why there's Dewars White Label. Distilled for the man or woman who wants a smooth scotch without all the extras, Dewar's White Label is where it's at, Êwherever you want to be. Since 1899, this scotch whiskey has been produced with a time-honored traditional distillation process. Honey, vanilla, apple, and wood combine into a versatile and soothing mix with an Êaftertaste of smokiness and a bit of fudge.
A sophisticated whisky that possesses honey and spicy tones yet remain light and smoky. Taste the velvetiness that could only come from 40 of Scotland's finest single malts and grain whiskies and over 150 years of bold, Dewar's Scottish tradition.
This was first created over a century ago by the Dewars master blender. White Label contains around 40 different whiskies in the blend, with Aberfeldy at its heart.
Despite the fact that the label is quite clearly a pale yellow color, Dewar's White Label remains a hugely popular blend, especially Stateside. Dewar's whiskies have won more than 400 awards and medals in over 20 countries.
In 1899, a year after production commenced at Dewar's new distillery, Aberfeldy, A.J. Cameron created the now-iconic Dewars White Label. Over the next 120 years, our flagship blend established itself as one of the leading blended Scotch whiskies worldwide.
In 1892 while out with friends in New York, Tommy Dewar asked for his whisky to be served in a tall glass, along with soda and ice – and so the 'Original Highball' was born, and became the perfect drink to enhance the smoothness of our whisky.
Nose:
Honey, peach, apple, and wood. Cut hay.
Palate:
Medium, vanilla fudge, smoke, toffee, heather honey, oak.
Finish:
Good length, cut herbs, honeyed sweetness.