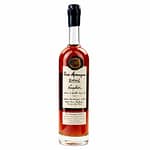 Delord Napolon Bas-Armagnac 700ml
Sale!
10%
Delord Napolon Bas-Armagnac 700ml
$145.00 
Product images are for illustrative purposes only and may differ from the actual product due to label and design changes. Please contact us first if you are looking for specific versions. Otherwise, we ship based on the product name.
Made from grapes grown on Delord Napoléon Bas-Armagnac own Bas vineyards, the wine is distilled two-thirds double distilled in pot stills and one-third single distilled in a continuous Armagnac still. This expression is called Delord V.S.O.P. in Europe and Delord Napoleon in the USA.
Born in 1875, Prosper Delord Napoléon Bas-Armagnac started the company as an itinerant distiller. He gained a reputation for his dedication and expertise by carting his traveling pot still around to the farms in the Bas Armagnac region. When his son Gaston took over in 1925 he officially founded the company name and established the business as a permanent site in Lannepax.
Today, great grandsons Jerome and Sylvain carry on the same tradition, having established a reputation for quality that is unsurpassed. Owners of a prime 20 hectare vineyard in the heart of the Bas Armagnac, (widely known as the 1st Cru), they have been distilling, ageing and blending their eaux-de-vie the exact same way their great-grandfather did. Their ageing cellars contain Armagnacs dating back to 1904. When touring the distillery and ageing cellars, it feels as if time has stopped and you almost expect to see grandfather Prosper, coming around the corner pulling his itinerant pot still with the help of his two cows.
The opening aroma is atypical but following aeration the aroma becomes more of a customary Armagnac perfume as scents of sweet oak, prunes, cocoa, spice and raisins meld. The palate entry is assertive, sweet and raisiny; at midpalate a brief flash of spirit is followed by fat flavors of sautéed butter, almond paste, nougat and dark honey. Aftertaste is rich, long and sweet.
Appearance:
Clear, golden amber with slight green hue.
Aroma:
Buttery with macadamia nuts and slight hay/green note.
Taste:
The buttery notes continue with a creamy mouthfeel and a black pepper bite. Aftertaste: Long, mouth coating finish.