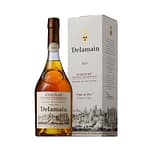 Delamain Pale & Dry Grande Champagne Cognac 750ml
Sale!
Delamain Pale & Dry Grande Champagne Cognac 750ml
-20%
Product images are for illustrative purposes only and may differ from the actual product due to label and design changes. Please contact us first if you are looking for specific versions. Otherwise, we ship based on the product name.
Delamain Pale & Dry's youngest offering, at 20 to 25 years old, is also one of the standard-bearers of Grande Champagne. Light amber, with a delightful nose full of pear, marmalade, quince, and orange blossom. The pear and quince carry onto the palate, where a distinctive membrillo-like flavor emerges a unique note I find in a number of Delamain expressions. There are gentle spice and warm citrus on the palate, gliding to a long, delicate finish. The definition of elegance.
Bold and butterscotchy, this easy-drinking Cognac also has dried fruit and nutty tones, plus a saline touch that's reminiscent of salted caramel. There's a spicy flourish on the relatively dry finish. Delamain notes that it is one of the only Cognac houses to exclude VS and VSOP expressions from its portfolio, its range starts where others end, with an X.O.
A blend of long-aged XO Grande Champagne Cognacs, Delamain Pale & Dry benefits from a lengthy two-year marriage period in the cask after assemblage before being bottled, resulting in a beautifully smooth roundness and flavor integration on the palate.
Aged 25 years, this Pale & Dry expression is a stunning and cohesive XO, its bouquet is layered, with powerful and intense floral aromas, backed by distinctive notes of vanilla. Its mellow roundness on the palate blossoms into a full-bodied fruitiness, with hints of licorice and vanilla. Serve as a digestive, or as a partner to chocolate and other desserts.
Eye:
Clear, light amber with golden flecks.
Nose:
Orange spiced tea, fresh-cut apples, and cherries first. The nose does not overpower.
Palate:
Delicate floral flavors, with sleek notes of vanilla, the wood tied powerfully well, a fine interplay of fruit and acidity laced with a touch of licorice. A finesse to the Cognac for its age, with a lengthy finish.