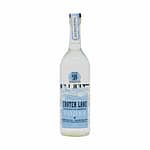 Crater Lake Vodka 750 ml
$85.00
Product images are for illustrative purposes only and may differ from the actual product due to label and design changes. Please contact us first if you are looking for specific versions. Otherwise, we ship based on the product name.
Crater Lake in the Cascade Mountains of Oregon, long regarded as the purest water in the world, is our inspiration for Crater Lake Vodka. Melting snow, percolating through porous lava rock, forms the source of this extraordinary water. Mimicking this natural process, we filter our vodka ten times through charcoal and crushed lava rock.
Crater Lake products were first made in Bend, Oregon. Then in 2010 they moved their distillery to Tumalo, Oregon. Their standard vodka is distilled from grain. It is filtered ten times through charcoal and crushed lava rock. This is to imitate the natural filtration that happens to the water of Crater Lake. A portion of each batch is rested briefly in new American oak barrels.
A portion of each batch is rested briefly in new American oak. The result is vodka recognized internationally for its exceptional smoothness. You will notice a soft, spring water character with a hint of vanilla on the finish.
Crater Lake Vodka is filtered 10 times through charcoal and lava rock then briefly rested in oak, creating a vodka that is exceptionally smooth without being flat and boring. In a market flooded with indistinguishable vodkas trying to be the smoothest, Crater Lake is unique with a clean spring water taste and a soft vanilla-like finish. Gluten free and kosher.
Notes:
This is one of a number of excellent products from Bendistillery. They filter their vodka 10 times through charcoal and lava rock, then age it slightly in oak.
Appearance:
Clear as glass, body is heavier than water but not excessively so. Some formation of legs on the glass but not a lot this is a good sign in vodka as this shows that glycerine is not used to thicken it, or reduce off tastes and aromas (as caramel is used in some whisky).
First Impression:
Very little scent at all. Again, in vodka this can be a good thing. The lack of smell, especially at room temperature, says that thisis a very well distilled vodka – there are no off notes or that rubbing alcohol smell you get from a bad or sloppy distillation.
Taste:
Extremely smooth it just glides down the throat, silky, warming at the end. A somewhat mineral-water taste to it, hard to place what itexactly is, but it adds to the charm and intrigue trying to figure it out.
Drinks:
Works well in a martini and just about every other drink we tried.
Final Thoughts:
One of the best new American vodkas much cleaner than Grey Goose.
Bottle:
Tastefully understated frosted bottle with pastel printing, but
somehow easy-to-spot on the shelf despite this.