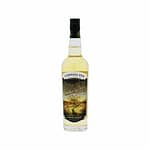 Compass Box Peat Monster Blended Malt Scotch Whisky 750ml
Sale!
10%
Compass Box Peat Monster Blended Malt Scotch Whisky 750ml
$155.00 
Product images are for illustrative purposes only and may differ from the actual product due to label and design changes. Please contact us first if you are looking for specific versions. Otherwise, we ship based on the product name.
A peaty blended malt created by the renowned John Glaser, of Compass Box. The Peat Monster contains malt whiskies from the legendary Isle of Islay, along with a helping of Highland malt in there too. The result is richly smoky, with underlying hints of fruit and oak. Compass Box Peat Monster contains 64% Caol Ila and 35% Laphraoig, plus 1% of the French Oak-finished batch of blended Highland malts that John Glaser seems to be throwing into everything these days.
Tasting Notes Of Compass Box Peat Monster
Nose:
Peat, marked salinity, leans to Caol Ila in style, something medicinal. Sweet and fruity, grainy.Bacon, peat (of course), leather, tobacco, and iodine. Opens up in the glass to reveal powdered hot chocolate mix, warm copper reminiscent of a handful of new pennies, and a hint of chili powder.
Palate:
Peat, oak. Botanicals, floral, coppery, sweet, smoky bacon, hint of papaya.  Thin body. Smoked seaweed is in the fore (a point to Laphroaig!), with undercurrents of smoked jerky, vanilla, toasted nuts, and briny pickle juice.
Finish:
A lingering sweetness, more peat, floral: roses and violets, sweet spice, oak. Long. A continuation of the previous notes. One more point to Laphroaig, which is still dominant. Bitterness is minimal (despite both of these malts tending to carry some), and the finish fades very slowly with only slight changes to the smoke.