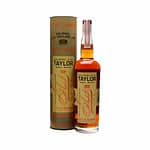 Colonel Eh Taylor Small Batch Bourbon Whiskey Bottled In Bond 750ml
Sale!
Colonel Eh Taylor Small Batch Bourbon Whiskey Bottled In Bond 750ml
-12%
Product images are for illustrative purposes only and may differ from the actual product due to label and design changes. Please contact us first if you are looking for specific versions. Otherwise, we ship based on the product name.
Colonel EH
Taylor Whiskey is a small batch whiskey comprised of selected
whiskey
barrels which were aged in Warehouse C. This warehouse was constructed by Colonel E.H. Taylor Jr in 1881. This Colonel EH Taylor Whiskey is also a bonded whiskey which means that the bourbon was distilled in one season, aged for at least 4 years and bottled at 50% ABV.
Colonel E.H. Taylor is a brand owned by prolific distiller Buffalo Trace. The Small Batch, though, seems to be widely available. The Small Batch is bottled in bond and (therefore) is 50% ABV and at least 4 years old.
An excellently solid if laid-back bourbon for a price that shows that Buffalo Trace knows its quality. You're not getting a deal, for sure, but you are getting your money's worth. The whiskey is more impressively mellow when you compare it to other 100-proof bourbons.
TASTING NOTES OF Colonel EH Taylor Whiskey
Nose:
Caramel apples, fresh corn and cloves. Butterscotch sneaks in after a while. Shy, even after a rest in the glass. The overall impression is mellow corn sweetness, with a delectable assortment of floral notes and subtle caramels and fudges.
Palate:
More corn sweetness, mixed with slight spiciness of rye and cinnamon. Syrupy body with a silk-like texture. A mild (for 50% ABV) tongue burn is followed by light oaky tannins, more corn-based sugars and caramels, mildly bitter nut skins and almond butter.
Finish:
Medium and very rich with creamy vanilla. The same silky mellowness translates to the finish, which is nearly devoid of bitterness and simply continues most of the flavor notes.
Overall:
A really great small batch bourbon.