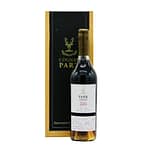 Cognac Park Vintage 1975 Fins Bois
Sale!
Cognac Park Vintage 1975 Fins Bois
-5%
Product images are for illustrative purposes only and may differ from the actual product due to label and design changes. Please contact us first if you are looking for specific versions. Otherwise, we ship based on the product name.
Featuring as part of their limited edition collection of Vintage Cognacs, the Park Cognac 1975 Fins Bois is an age-specific Cognac from the mid-70s. Park Cognac is fast becoming recognized as masters of creating such unique bottlings, as a selection of the finest Tessendier Eaux-de-vie is used.
Aged in natural, humid cellars in the family distillery at the heart of Jarnac, the Tessendier family weighs over four generations of savoir-faire. This is a one-of-a-kind Vintage that perfectly exemplifies the power of the Fins Bois terroir when its eaux-de-vie are left to mature for a sufficient amount of time.
The Vintage is lightly toasted to tease out the delicately sweet flavors from the wood, such as honey, vanilla, and custard. It is crafted with 100% Ugni Blanc grapes from the Fins Bois which provide freshness and finesse and allow the characteristics of each terroir to shine through.
Aged in oak barrels with a capacity of 350 liters, firstly in new barrels and then the Cognac is transferred to used casks, mainly from the Limousin forest.
Park Cognac double-distill their Vintage Cognacs using traditional copper pot stills of 30-hectare liters; it is this process that makes it possible to obtain complex, finely elaborated spirits. This is also known as the 'Charentais' method.
Usually, the Fins Bois is renowned for being a terroir with a quick aging environment, and its subsequent flowery bouquet. It is the largest of all of the Cognacs terroirs, and circles around three others. It has a varied soil composition, of limestone, clay, and a very particular flavor.
This is a fabulous Cognac from Cognac Park, distilled in 1975 and bottled at 44% ABV.  This is from a limited production run of 324 bottles and comes in an elegant box.
Eye:
Golden honey tone.
Nose:
The full aromatic palate, with soft floral elements typical of a Borderies Cognac such as violet. You will also notice notes of acacia, nougat, sweet mango, quince, and dried apricots.
Palate:
Soft, round taste with a power of culmination on the palate. Finish in Japanese oak casks brings depth, with complex and spicy notes such as white pepper, licorice, cinnamon, and vanilla. A marriage of flavors that makes for an exclusive product.