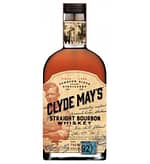 Clyde MayS Straight Bourbon 750ml
Clyde MayS Straight Bourbon 750ml
$88.98
Product images are for illustrative purposes only and may differ from the actual product due to label and design changes. Please contact us first if you are looking for specific versions. Otherwise, we ship based on the product name.
Clyde May's Straight Bourbon is aptly named after Clyde May who was an Alabama farmer. May had a storied history as being a talented moonshiner in the mid-20th century. Refining his craft over the years, and ultimately spending time in a federal penitentiary because of this. Known for his usage of oven-dried apples, May would add these to his barrels. During the aging process resulting in a distinctive flavor profile. In 2001, May's son recreated his father's recipe and legally began distilling Clyde May's.
The bottle of Clyde May's Straight Bourbon itself sports a green and white label, which is representative of the colors in Clyde's prison cell. While the whiskey is currently sourced, the company announced plans in late 2017 to open a distillery in Troy, Alabama. Construction has been delayed, with groundbreaking now expected to start in early 2020. The bottle being reviewed is from Batch 003 and its label states it's aged a minimum of 3 years.
NOSE:
Youthful hints of sweet vanilla, corn, light rye grain, green apple, and ripe honeydew. The scents work as a nice way to start the sip, however, the youth of the whiskey is more prevalent than I would have preferred.
palate. Lightly charred oak, green peppercorn, and green apple mix with sweeter flavors of vanilla, syrup, and hints of toasted brown sugar. The spice is more noticeable in the sip versus the nose, however, it comes across as slightly unbalanced.
Finish:
Freshly baked bread, corn, and sweet vanilla all lay on top of a lingering rye spice note. The spice lasts for a surprisingly long time and is one of the highlights of the sip.
Overall:
Clyde May's Rye's first attempt into the rye market for the brand leaves a lot of room for growth. Its higher proof allows for a nice variation in flavors to come forward. However, in this case, the variation in flavors can come across as unbalanced and don't play as well against the youthful undertone that is found throughout. As the brand switches from sourced to in-house distilled whiskey in the coming years, it will be interesting to see how the flavor profile changes over time.