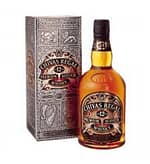 Chivas Regal 12 Year Old 1.75L
Sale!
10%
Chivas Regal 12 Year Old 1.75L
$164.98 
Product images are for illustrative purposes only and may differ from the actual product due to label and design changes. Please contact us first if you are looking for specific versions. Otherwise, we ship based on the product name.
Chivas Regal 12 Year Old
Chivas Regal 12 Year Old may be one of the youngest members of the Chivas Regal family, but it is no less luxurious than its older siblings. The Chivas Brothers made a name for themselves for blending and this is a prime example of exactly that skill. This premium Scotch whisky is a blend of single malt and grain whiskies. A generous spirit, it is aromatic enough to draw you in and light enough to not overwhelm the palate.
Matured for a minimum of 12 years, the resulting blend is an award-winning spirit from a masterful company. Smooth and rich with just the right amount of Speyside malt to give it that Chivas personality, this whisky is good enough to enjoy on its own but tame enough to blend wherever you see fit.
Full and generous in flavor, words can hardly do justice to the perfect tones that make up Chivas regal 12 year, the most famous whisky in the world.
Smooth, rich, and generous, Chivas Regal 12 is an expression of a unique tradition that has continued unbroken since the Chivas Brothers first introduced the world to the Scotch whisky of Chivas Regal.
Rich, smooth and satisfying, Chivas regal 12 delights the tastebuds with its melody of fruity and floral flavors, fused from some of Scotland's finest single whiskies.
The nosing finds dry grainy notes with background scents of dried flowers and parchment, and deeper fragrances of light toffee, almond paste, and yellow fruit. Entry is oily, buttery, and semisweet; the whisky dazzles at midpalate with layered flavors of brown butter, cooking oil, barley malt, and oatmeal cookie underpinned by the single malt foundation. Concludes smoky, satiny, and ultra-sophisticated.
Moderately light-bodied whisky you can take pleasure in anywhere and at any time because it is easy to appreciate and share. It has a celebrated smoothness, and a honeyed, fruity taste.
Nose:
An Aromatic Infusion Of Late Summer Meadows, Heather, Honey, And Orchard Fruits
Taste:
Round And Creamy On The Palate, Full Rich Taste Of Honey And Ripe Apples, With
Vanilla, Hazelnut, And Butterscotch Notes.
Finish:
Rich And Lingering