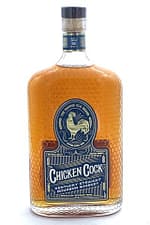 Chicken Cock Kentucky Straight Bourbon Whiskey 750ml
Sale!
5%
Chicken Cock Kentucky Straight Bourbon Whiskey 750ml
$145.00 
Product images are for illustrative purposes only and may differ from the actual product due to label and design changes. Please contact us first if you are looking for specific versions. Otherwise, we ship based on the product name.
Chicken Cock Kentucky Straight Bourbon Whiskey
Distilled, aged, and bottled in Kentucky, Chicken Cock Kentucky Straight Bourbon Whiskey has a rich, elegant mahogany color and a nose that's a nice balance of oak and sweet notes with dried fruit, caramel, and vanilla. The gentle flavor is a soft tannin start that finishes with delightful toasted oak lactones. As it slides down your throat, the taste evolves into a creamy, buttery sensation with butterscotch notes and a vanilla wafer finish. Just to make sure you're giving this spirit its due respect, Chicken Cock packs a heat that lets you know its the real-deal; full-bodied and 90-proof.  In keeping with its authenticity, our bourbon is bottled in prohibition-era replica bottles modeled after the original Chicken Cock packaging.
Chicken Cock Kentucky Straight Bourbon is distilled, aged and bottled in Kentucky. The Chicken Cock brand was first established in 1856 in Paris, Kentucky. It was the house whiskey at The Cotton Club, a famous speakeasy in Harlem during Prohibition. It was smuggled in tin cans and opened tableside. A distillery fire just after WWII closed the distillery, but in 2012 the brand was resurrected by Grain & Barrel Spirits.
The original Chicken Cock Distillery was established in 1856 in the small town of Paris, Kentucky, and rose to popularity during the 19th century. This bourbon whiskey was a staple spirit at several speakeasies during prohibition. The original distillery burned down in the 1950s but has recently been revitalized with a touch of modernization. Chicken Cock Kentucky Straight Bourbon Whiskey is distilled, aged, and bottled in Kentucky.
Chicken Cock is a resurrected brand, best known for being smuggled across America in tin cans during Prohibition. Ironically, when the brand was relaunched (with a load of zany flavored offerings in quick-chill metallic bottles) they themselves became victims of crime as they lost 10,000 bottles to a daring truck heist. Quite different to the bootleggin' days when it was the authorities intercepting their shipments!
Color:
Light Amber
Nose:
The nose is bold with notes of ethanol, vanilla, caramel, and oak. Faint hints of citrus and banana were also present.
Palate:
The first sip had a medium-thin viscosity that was accompanied by notes of sour oak. The second sip coated the entire palate and introduced a faint nuttiness. The third sip had a concentrated heat and effervescence in the mid-palate. Oak, vanilla, and faint hints of banana were present.
Finish:
The finish was medium in length with lingering notes of oak and ethanol. Faint hints of cinnamon began to appear as the finish began to fade.