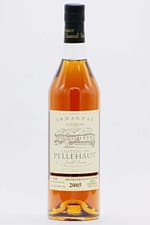 Chateau De Pellehaut Vintage 2005 Armagnac Reserve Tenareze 750ml
Sale!
Chateau De Pellehaut Vintage 2005 Armagnac Reserve Tenareze 750ml
-20%
Product images are for illustrative purposes only and may differ from the actual product due to label and design changes. Please contact us first if you are looking for specific versions. Otherwise, we ship based on the product name.
From Charles Neal Selections, this is an excellent, mature Armagnac from the Tenareze region, primarily composed of folle blanche. Chateau de Pellehaut sits at the top of a hill at 180 meters altitude overlooking the quaint village of Monteal-du-Gers.  In fact, the name Pellehaut comes from the Roman pila haut or high point.  The château itself, constructed in the 18th century, faces the Pyrénées which, although 90 kilometers away, can be majestically seen in the distance on a clear day.
 In addition to making a wide range of fantastic table wines, the Beraut family has established themselves as the premier Chateau de Pellehaut Armagnac producer in the Ténarèze, with fabulous cask strength bottlings going back to the early 70s. The Pellehaut estate covers 550 hectares, many of which are planted with grains, sunflowers or used as grazing grounds for their herd of Blonde d'Aquitaine cows, whose compost helps to limit synthetic fertilizers. 
Vines now cover 250 hectares on several different types of soil, including mixtures of clay and limestone along with sand interspersed with small limestone pieces.   For their armagnacs, they only use grapes grown on the parcels covered with primarily sand, helping to give their spirits unusual finesse for the region.
The comely aroma is assertive and intensely fruity, especially unsweetened pineapple and papaya. In the mouth, the entry taste is dry and resiny; at midpalate, the flavor turns candied and concentrated. Finishes semidry, caramel-like and bittersweet.
Testing notes:
This shows a bit differently from the other vintage Pellehaut currently on the market. The addition of folle blanche to the blend gives a yellow flower and chamomile tea character that doesn't appear to be found in the vintages. The addition of water to lower the alcohol to 42.5% also lowers the general viscosity and eases some of the grippy oak tannins that older expressions show. All of this being said, this makes for an excellent introduction to the category, but may be a hair too soft for dyed-in-the-wool armagnac fans. They should seek out the very good 1989 vintage for around 20 dollars more a bottle.