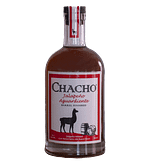 Chacho Jalapeno Aguardiente Barrel Finished
Chacho Jalapeno Aguardiente Barrel Finished
$88.98
Product images are for illustrative purposes only and may differ from the actual product due to label and design changes. Please contact us first if you are looking for specific versions. Otherwise, we ship based on the product name.
Chacho Jalapeno Aguardiente is distilled from pure south American cane sugar and infused with natural jalapeno flavors, giving it a perfectly smooth yet fiery finish.
The brainchild of Dan Ziegler, who founded Chacho Spirits after a revelatory trip to Colombia, that llama-branded bottle has been rapidly proliferating across D.C. bars and restaurants since October 2016.
Ziegler founded Chacho at the start of 2016, while he was still working full-time for Hilton Worldwide, but he didn't go full-time with Chacho until later that year.
Following the transition, sales are up 125 percent, and his distribution has expanded from the Washington, D.C., area to Chicago and Las Vegas.
Its inspiration comes from the traditional South American spirit "aguardiente," which has long been enjoyed from the bustling streets of Colombia to remote villages atop the Andes mountains. Chacho is a burning twist on the classic spirit and is certain to set your fiesta en Fuego!
This spirit took us quite a while longer to develop, but it was worth the wait! The liquid starts just the same as the original Chacho but is rested in American Oak, giving it a beautiful caramel color.
Strong oak and bourbon notes hit on the front end, with that signature jalapeno kick on the back end – a perfect spicy replacement to your traditional whiskeys.
Chacho Jalapeno Aguardiente is a jalapeño-flavored version of the popular Colombian liquor called aguardiente, which Ziegler imbibed for the first time and loved on the trip to Colombia that inspired his business.
Tasting Notes :
Chacho is sweet and smooth, though the nose carries a substantial whiff of ethanol (opt for a rocks glass rather than a snifter). The jalapeño lends a refreshing vegetal quality that reminds one of cucumber water, and the spicy finishing kick is nice but doesn't tamp down the sweetness quite enough to make straight Chacho poured on its own preferable to Chacho used in a cocktail.