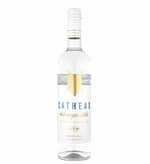 Cathead Honeysuckle Vodka
Sale!
Cathead Honeysuckle Vodka
-20%
Product images are for illustrative purposes only and may differ from the actual product due to label and design changes. Please contact us first if you are looking for specific versions. Otherwise, we ship based on the product name.
The First And Only Original Cathead Honeysuckle Vodka. We Make Our Honeysuckle Flavored Vodka By Hand In Small Batches. Our Process Is Simple, Just Like Our Memories Of Pulling Honeysuckle Off The Vine.
Cathead Honeysuckle Vodka is made by hand in small batches. Made from all-natural ingredients and sweetened with Louisiana Cane Sugar, this vodka has a sweet and delicate flavor with a well-rounded fresh finish.
This Old Soul is a precise blend of whiskey. Each with an identical high-rye mash bill. Aged for different amounts of time. Each barrel is reviewed by nose & palate – the old fashioned way – & expertly blended from whiskeys distilled in Indiana & Mississippi. Hand-made & hand selected. Old Soul is the perfect metaphor for our bourbon. One that is thoughtfully crafted with a nod to both tradition & the future.
Hand-made in small batches with all natural ingredients. This vodka has soft floral notes with a strong honeysuckle taste. Very soft and delicate with a fresh finish.
Neutral in aroma, this is shows a light, delicate palate, with hints of honey, vanilla and coconut sweetness. Finishes with charcoal hint, gentle spice and a faint white floral exhale. Base vodka is made from grain.
Tasting Notes of  Cathead Honeysuckle Vodka
Soft Floral & Herbaceous Aromas Of Honeysuckle. A Sweet And Delicate Flavor With A Well-Rounded Fresh Finish.
COLOR:
Brilliant deep amber
NOSE:
Sweet notes of vanilla, reminiscent of bakery goods and sugar cookies, with hints of fresh leather.
TASTE:
Elegant and balanced mouthfeel showing notes of rose and dried cherry followed by toffee and baking spices. Rye spice and herbaceous notes appear mid-palate and into the finish.
FINISH:
Rich earthy finish led by a lingering rye spice.