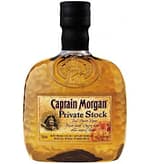 Captain Morgan Private Stock Rum 750ml
Captain Morgan Private Stock Rum 750ml
$74.98
Product images are for illustrative purposes only and may differ from the actual product due to label and design changes. Please contact us first if you are looking for specific versions. Otherwise, we ship based on the product name.
Captain Morgan Private Rum is Rich, dark and full-bodied, it blends hints of secret island spices with a smooth velvet texture. The craft of Caribbean rum-making is over 300 years old, and Private Stock is one the most sophisticated rums to come from this long-standing tradition.
Captain Morgan Private Stock rum is produced from molasses and aged for over 2 years in ex-bourbon barrels before being blended with spices. The Captain Morgan brand was created in 1945 and named after the famous pirate and eventual governor of Jamaica Captain Henry Morgan.The rum's original home was Puerto Rico with it was distilled by Seralles, but is now St Croix. Captain Morgan Private Stock is the perfect rum for all those who've taken a liking to the original spiced rum by the brand from the American Virgin Islands. The basis is Puerto-Rican rum that matures for two years in oak barrels before being aromatised with a selection of fine spices, such as high-quality vanilla.
COUNTRY : US Virgin Islands
SPIRITS STYLE : Spiced Rum
If You're Anything Like The Captain, Only Your Most Valued Crew Members Will Get To Share This Great Liquid! Captain Morgan ® Private Stock Is Made From The Finest Of Captain Morgan's Reserves, Married With A Richer Blend Of Mellow Island Spices. Aged In Oak For At Least 2 Years, It's Perfect For Sipping And Savouring On The Rocks With A Twist Of Lime.