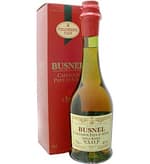 Busnel Vieille Reserve Calvados
Sale!
Busnel Vieille Reserve Calvados
-15%
Product images are for illustrative purposes only and may differ from the actual product due to label and design changes. Please contact us first if you are looking for specific versions. Otherwise, we ship based on the product name.
Busnel Vieille Reserve Calvados
Busnel Vieille Reserve Calvados , one of the worlds great brandies, is made from apples that grow in Pays d Auge the famous cider-making region of Normandy. Over 40 different apple varieties are carefully selected, pressed and the juice is allowed to ferment.
From the Pays d'Auge in Normandy comes this excellent apple brandy, double-distilled in small copper potstills and aged around four years for a distinctive ripe apple flavour.
Busnel has long been recognized as a premium brand for Calvados, so this Busnel Vieille Reserve Calvados VSOP should be a real favorite for collectors. It was produced in the 1970s.
The first aroma is apple-like and nicely acidic; later on, huskier notes of oak, hard cheese, baked apple, baked pear and beeswax appear. Palate entry is lean, off-dry, and alluringly baked and wax-like; at midpalate the taste profile turns drier, more caramel- and toffee-like, even maple-like. Concludes bittersweet, refreshingly astringent and resiny.
Recognized as the premium brand for calvados. A true aoc pays d'auge (the highest appellation in calvados). Only the first juice from the pressing is used and fermented and then distilled twice in a copper pot still. Aged in oak barrels for at least four years.
A great little mixing and sipping Calvados from a quality producer in the Pays D'Auge. 1200 tons of apples pressed into 1000 Liters of Cider, natural fermentation, and slow pot still distillation, yields 60 liters of delicious apple brandy.
A harmonious blend of oak and fruit notes. Perfect for after dinner sipping or as a "Trou Normand" : a traditional Normandy way of making a little more room for the next course of a lovely dinner.