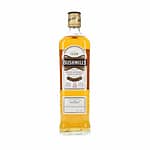 Bushmills Irish Whiskey Ireland 750Ml
Bushmills Irish Whiskey Ireland 750Ml
$101.36
Product images are for illustrative purposes only and may differ from the actual product due to label and design changes. Please contact us first if you are looking for specific versions. Otherwise, we ship based on the product name.
Bushmills Irish Whiskey reserved for Bushmills Original is slowly matured for a minimum of five years in American oak casks before blending with Irish Single Malt to produce this popular whiskey.
Bushmills Irish Whiskey is also known as 'White Bush' and is the flagship blend from Bushmills distillery. It is vatted from triple distilled malt aged 6-7 years along with some younger grain whiskey which is currently sourced from Midleton distillery.
Most of the maturation is done in ex-bourbon casks along with a small number of sherry casks. This has a smooth yet full and creamy texture with some nice flavors of vanilla, fruits, and some subtle chocolate notes.
A superb 10-year-old Irish single malt and winner of Best Irish Single Malt Whiskey at the 2007 World Whiskies Awards. Bushmills is always scored highly in Jim Murray's Whisky Bible, with the 10-year-old being awarded 92.5 points in 2013!
Old Bushmills Distillery is the oldest, most famous distillery in Ireland and the only one to triple distill for added smoothness. Displaying a unique depth of flavor and a sweet honey aftertaste, along with the Bushmills signature smoothness.
The cornerstone of our Bushmills family, this smooth triple distilled whiskey has a strong malt characteristic. An approachable whiskey, that has been matured in both bourbon and sherry casks, gives notes of fresh fruit and vanilla.
Explore our extensive range of beauty, liquor, and food when you reserve your duty-free order online. Find the main Bushmills products available to purchase and reserve at Bengaluru airport.
With up to the benefit of 1000s more products available when you reserve in advance, enjoy shopping tax and duty-free products online with more choice, and without the rush! Reserve online, collect and pay in-store.
Nose:
Banana skins.
Palate:
Medium, very fruity, chocolate pudding.
Finish:
Floral, tannic.
Overall:
Add a drop of water and it tastes just like nectarine chunks in low-fat yogurt!