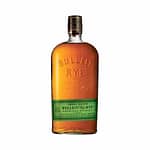 Bulleit Rye Whiskey 750 Ml
Bulleit Rye Whiskey 750 Ml
$81.00
Product images are for illustrative purposes only and may differ from the actual product due to label and design changes. Please contact us first if you are looking for specific versions. Otherwise, we ship based on the product name.
Bulleit Rye
Whiskey  is a new offering from the fine folks behind Bulleit Bourbon. The
bourbon
already boasts a relatively high rye content, but the new Bullet Rye Whiskey is composed of 95% rye grains, a much higher concentration than the mandated 51 percent.
Bulleit Rye Whiskey allows you to savor its bold, spicy character and distinctively clean finish. With its russet color and oaky aroma, our rye whiskey makes a good first impression before it's even opened. The flavor profile of our rye whiskey combines hints of spice, vanilla and honey for a smooth, well-balanced finish that lingers long after the final sip. Simply combine our rye whiskey with sweet vermouth, a dash of bitters and a cherry for a classic Manhattan cocktail.
The golden amber spirit has aromas of oak, dark fruits and mellow vanilla. Take a sip for an instant hit of cherry on your tongue. The taste moves toward nuts, toffee and spice, plus some more fruit. It finishes dry and chewy with lasting notes of maple and oak. At 90 proof, Bulleit Rye Whiskey is still very smooth on the palate with no discernable burn outside the peppery spice. It's great for sipping neat. Pouring over ice mutes some of the spice, allowing more of the sweetness to come through.
Aged in white oak barrels that are charred to the maximum before being filled. This whiskey is made with 95% rye and is a copper color with slight green patina.
An over the top rye whiskey, battling the science of fermentation to produce a 95% rye mash whisky, the highest proportion in a whiskey that we've seen. It's astringent and spicy, showing what the flavour of rye is all about.