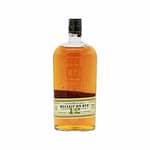 Bulleit 12 Year Old Rye Whiskey 750ml
Sale!
10%
Bulleit 12 Year Old Rye Whiskey 750ml
$168.00 
Product images are for illustrative purposes only and may differ from the actual product due to label and design changes. Please contact us first if you are looking for specific versions. Otherwise, we ship based on the product name.
Bulleit 12 Year Whiskey is an award-winning Bulleit Rye Whiskey. This beauty is matured in hand-picked oak barrels for a decade and two years. The mash bill is 95% rye and 5% malted barley, a balanced harmony of smoothness and spice.
Bulleit 12 Year Rye is a Diageo-released but MGP sourced "limited" rye whiskey, even though I'm not sure how limited it actually is. Bulleit is best known for its non-age-stated Bulleit Bourbon and Rye, and also has a 10 year old bourbon and NAS cask strength bourbon. I'm very exciting about this Bulleit rye because 12-year-old rye whiskey is usually quite rare and expensive, but Bulleit is somewhat widely available and actually reasonably priced at around $50. On the other end of the spectrum, Kentucky Owl charges around $200 for its sourced 11 year old, 50% alcohol rye.
Tasting Notes: Bulleit 12 Year Whiskey
Vital Stats: Aged 12yrs. 46% ABV, 92 Proof. 95% Rye Mash Bill. This is the fifth release from Bulleit and the second in the line of rye whiskey options.
Appearance: Somewhere between a light red and dark orange.
Nose: A bright citrus up front, baking spice, and a touch of brown sugar.
Palate:  Big rye flavors, candied orange zest, with a lighter body. Some caramel and vanilla in the finish. Considering the mash bill, this is a well balanced whiskey and hits all of the notes that are characteristic of Bulleit products.
Distillery: Bulleit (Diageo sourced from MGP)
Type & Region: Rye, Indiana, USA
Alcohol: 46%
Composition: 95% rye, 5% malted barley
Aged : 12 years in virgin American white oak