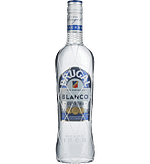 Brugal Especial Extra Dry White Rum 750ml
Brugal Especial Extra Dry White Rum 750ml
$112.96
Product images are for illustrative purposes only and may differ from the actual product due to label and design changes. Please contact us first if you are looking for specific versions. Otherwise, we ship based on the product name.
Brugal Especial Dry Rum was founded in 1888, by Andrés Brugal Montaner. Over the next one hundred and twenty years the company grew steadily, and it is now one of three large rum distillers in the Dominican Republic. The original family which founded Brugal is still in the control. George Arzeno Brugal, is the current chairman, and most of the board members are direct descendants of the original company founder. In fact, the Brugal Distillery has become an institution in the Dominican Republic. Just about every friend of mine who has visited the Dominican Republic has a vivid tale to tell of their amazing bus ride to the distillery, and another tale to tell of how much fun it was to sample the Brugal Rum.
Brugal Especial Extra Dry Rum is produced using the company's proprietary double-distillation technique which apparently creates a clean, dry rum which contains fewer of the heavy alcohols which tend to provide other rums a sweeter flavour profile. The Especial Extra Dry is blended from a mix of rum spirits which have been aged a minimum of 2 years and up to as many as 5 years in White American Oak casks. The rum is triple charcoal filtered, and was developed as a high-end cocktail spirit meant to compete with ultra premium Vodka.
Classic white rum from Dominican producers, Brugal, which is aged for at least one year to mellow out some of the overly intense qualities of rum straight from the still. This tasty rum is no stranger to cocktails and long drinks, not by a long shot.
Tasting Notes Of Brugal Especial Dry Rum
Nose:
Coconut and light floral hints.
Palate:
Lime joins the coconut just like a song I heard once. Spicy.
Finish:
Sweet and crisp.
Overall:
Great value white rum.