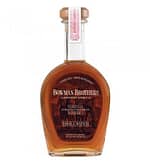 Bowman Brothers Pioneer Spirit Small Batch Virginia Straight Bourbon 750ml
Sale!
Bowman Brothers Pioneer Spirit Small Batch Virginia Straight Bourbon 750ml
-20%
Product images are for illustrative purposes only and may differ from the actual product due to label and design changes. Please contact us first if you are looking for specific versions. Otherwise, we ship based on the product name.
Bowman Brothers Pioneer Spirit Small Batch Virginia Straight Bourbon
Bowman Brothers Pioneer Spirit was purchased by the Sazerac Company, Inc. in 2003. Currently, the company doesn't produce its own whiskey distillate and doesn't disclose who they source it from. It is believed the new make they use originates from Buffalo Trace and is their #1 mash bill. Bowman Brothers Small Batch is triple distilled but it's unclear how many times A. Smith Bowman re-distills it through their unique copper still. The company then ages the whiskey on site. Bowman Brothers Pioneer Spirit consists of eight barrel batches and according to press materials is typically aged between 6-7 years.
John, Abraham, Joseph, and Isaac Bowman were Virginia militia officers in the American Revolutionary War. In 1779, they led 30 pioneer families to Madison Family County, Kentucky, and established Bowman's Station. Their great, great-grandson, Abram S. Bowman, purchased Sunset Hills estate farm located in northern Virginia in 1929. Following the repeal of Prohibition, he found himself with an excess of corn, wheat, and rye by 1935 and opened a distillery on the property. The current A. Smith Bowman Distillery is located about 60 miles from the original distillery in Spotsylvania County, Virginia. It opened in 1988 and began distilling spirits in 1991.
NOSE:
A welcoming aroma of brown sugar, sweet cinnamon, oak, and a twinge of floral potpourri. A quick swirl of the glass brings forth a bouquet of additional sweet notes of candy apple, peach, and custard. It's a pleasant nose with a fair amount of complexity that surprised me quite a bit.
Palate:
Its oily and thick mouthfeel is immediately noticeable. Vanilla, toffee, roasted nuts, and toasted oak hit with medium intensity. Despite having sweeter flavors, the palate is quite dry overall and keeps the sweet flavors in check. It's a little rough around the edges but has a decent core.
Finish:
Quite a bit of spiciness that makes it seem as if someone dropped a jalapeno in my glass. This isn't a hot finish, but a spicy one. Toasted oak, black pepper, and red pepper flakes dominate. It's not spicy to the point of clearing your sinuses, but more of a fiery blast with a long fallout. It's a bit more interesting than it is delicious, but overall, wow.
Uniqueness:
Starting with sweet and floral notes with the nose, oily and thick mouthfeel on the palate, and ending on a uniquely spicy finish, this is one heck of a ride. I just didn't expect this from a 90 proof, 6-7-year-old $33 bourbon. The company was able to take a sourced distillate and create a product that's all their own. This is not an easy task, and many non-distiller producers try and fail to do it all the time. For all of A. Smith Bowman's marketing speak of "triple distillation," "copper still," "aged in Virginia rickhouses," these aspects seem to have had an actual impact on the final product.