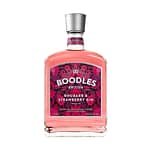 Boodles Strawberry & Rhubarb Gin 750ml
Sale!
Boodles Strawberry & Rhubarb Gin 750ml
-15%
Product images are for illustrative purposes only and may differ from the actual product due to label and design changes. Please contact us first if you are looking for specific versions. Otherwise, we ship based on the product name.
Boodles Strawberry & Rhubarb Gin
This summer-ready Boodles Pink Gin is a signature blend of botanicals. A modern twist on an English tradition, Boodles  Strawberry & Rhubarb Gin features garden-fresh rhubarb and juicy strawberries. Bursting with berries this gin delivers delightfully sweet and tart fruity flavors.
A fruity, refreshing strawberry and rhubarb gin from Boodles, infused with fresh fruit and an array of botanicals that create an aromatic, summery palate.
Here we have Boodles' gin-based take on bottling the British summer – a refreshing Rhubarb & Strawberry Gin! A core of Boodles British Gin has been infused with the eponymous botanicals, so it's packed full of pink color and flavors! We reckon that'll do just as well in a G&T as it will splash in a glass of Prosecco.
This fragrant pink spirit is made by infusing their classic Boodles Gin with the taste of garden rhubarb and fresh juicy strawberries. The result is a glorious pink hue with a sweet and tart fruity flavor.
Boodles Gin dates all the way back to 1845. It's named after the Boodle's Gentleman's Club in St. James, London founded by Edward Boodle in 1762. Known as the favorite gin of British prime minister Winston Churchill, the production is based on the original recipe created in 1845.
Boodles gin was re-introduced in 2013 by G&J Distillers in Warrington. Every batch of Boodles Gin begins as a clean spirit distilled from British wheat. The liquid is then redistilled in a Carter-Head copper still, allowing the botanicals to gradually infuse into the spirit.
Testing Notes of Boodles Strawberry & Rhubarb Gin
Bursting with berries, sweet and soft notes, and subtle notes of lemon, currant jam, and juniper.