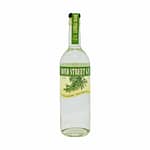 Bond Street Gin By Bendistillery 750ml
Sale!
20%
Bond Street Gin By Bendistillery 750ml
$75.00 
Product images are for illustrative purposes only and may differ from the actual product due to label and design changes. Please contact us first if you are looking for specific versions. Otherwise, we ship based on the product name.
This artisanal Bond Street Gin hails from Bend, Oregon, where Jim Bendis, of Bendistillery, was recruited to help craft this brand new, small-batch spirit. A "proprietary blend" of local juniper berries are used, but little else is revealed about the ingredients of this modern gin.
Unlike many modern gins, juniper is the easily the most forward note on this spirit, made in a strongly London Dry style that will go up well against most classic bottlings. After that, you get the modest lemon and some cucumber notes, with a bit of sweet vanilla on the back end.
Bond Street's gin is crafted in 'Claire' our beautiful copper still, set against the backdrop of the lovingly restored 19th-century hosiery works that is the Bond St Distillery. Drawing inspiration from traditional juniper led gins, our Signature gin is softened by subtle undertones of orange blossom with the refreshing notes of pink peppercorn underpinned by the traditional pine and citrus of a true London dry.
It's a very easy-drinking gin on its own and works well with mixers. Try it in a gin & tonic vs. a martini.
Distilled at the old Bond Street Gin Glass premises in Hinckley, Leicestershire, here we have the Signature expression from the Bond Street Distillery! With a traditional juniper-forward gin, it boasts notes of orange blossom and pink peppercorn alongside the core notes of pine. A classic tipple that'll do well in much-loved serves such as a G&T or Martini.
Nose:
The scent of fresh pine needles crushed underfoot on a forest floor underpin subtle warming spice with a hint of sweet oranges and citrus.
Palate:
The vibrant yet soft heat from the pink peppercorn melds into the fresh tangy oils from zested orange.
Finish:
Warm spice fades into a comforting caramel orange finish.