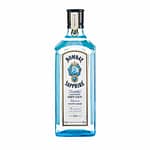 Bombay Sapphire 750ml
$80.62
Product images are for illustrative purposes only and may differ from the actual product due to label and design changes. Please contact us first if you are looking for specific versions. Otherwise, we ship based on the product name.
Bombay Sapphire 750ml a first-rate imported gin. Renowned as one of the worlds supreme spirits, Bombay Sapphires distinctive, dry clean taste attributable to its astounding combination of 10 carefully selected exotic botanicals and a exclusive vapour infusion distillation process, makes it ideal for the classic, yet chic martini.
The incomparable taste of Bombay Sapphire 750ml is the result of ten carefully selected botanical ingredients coupled with a unique distillation process. Unlike some gins, which boil their botanicals together with the spirit, Bombay Sapphire distils its spirit alone. The spirit vapor from this distillation then gently passes through a copper basket containing the botanicals. This infuses the subtle aromatic flavors from each of the ten botanicals into the spirit for a cleaner, crisper, more balanced taste. Be brilliant and inspired, drink responsibly.
The spirit is triple distilled, and the alcohol vapors are passed through bundles of the herbs and spices in order to gain flavor and aroma of almond, lemon peel, liquorice, juniper berries, orris root, angelica, coriander, cassia, cubeb, and grains of paradise.
Dry style gin imported from England. Blended with eight botanicals using a recipe that dates back to 1761. Bombay uses a unique distillation process which infuses the aromas and essences of the botanicals with the vapor of the spirit (rather than cooking them together as most gins do). Clean bouquet of coriander, juniper and citrus. Spicy flavors of vanilla and juniper. Creamy texture.
TASTE : Crisp, Lemon, Spice, Balanced