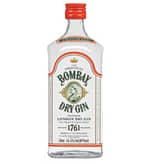 Sale!
Bombay Dry Gin 750ml
-15%
Product images are for illustrative purposes only and may differ from the actual product due to label and design changes. Please contact us first if you are looking for specific versions. Otherwise, we ship based on the product name.
Bombay Dry Gin, similar to its more famous sister Bombay Sapphire, is distilled from a base of grain and imparts the botanicals through vapor infusion. This Gin is based on a recipe that traces its origins back to the middle 18th century. However, the product itself actually launched in 1960.
The botanical blend is rather traditional and unsurprising— it is after all based on what would have been widely and easily available on the British market in the 1760's. It includes almond, licorice, coriander, lemon, cassia, angelica, orris root and juniper sources from Saxony.
Based On A 1761 Recipe, The Heart Of this Gin Is Its Unique Distillation Process, Vapour Infusion. Unlike Many Other Gins, Which Boil Their Botanicals Directly In The Spirit, The 8 Exotic Botanicals In  Gin Are Hand Placed In A Perforated Copper Basket.
The Spirit Vapour Passes Through The Copper Basket Delicately Infusing The Spirit With The Aromatic Flavours Of The Botanicals. The Way  Gin Acquires A Subtle, Full Flavour Taste Which Makes It Such A Rounded And Distinctive Gin.
Tasting Notes Of Bombay Dry Gin
Nose :
The nose of  Gin is soft. There's a touch of angelica rounding out then mild juniper with a pine and herbaceous facet. Citrus and a hint of gently piquant cinnamon provide lift. Bombay Sapphire Gin is quite classic with a pleasant roundness and accessible aroma.
Palate :
The palate is quite creamy. It has an almost vanilla sweetness, reminiscent of gins that begin from a base of wheat— especially red winter wheat. Bitter lemon pith, creamy angelica stalk, and juniper early. Towards the finish juniper melds into soft baking spice notes. Licorice provides a subtle roundness while other sometimes intense botanicals like coriander and cassia fade into the background, barely perceptible.