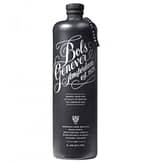 Bols Genever Amsterdam Barrel Aged Gin 750ml
Bols Genever Amsterdam Barrel Aged Gin 750ml
$114.98
Product images are for illustrative purposes only and may differ from the actual product due to label and design changes. Please contact us first if you are looking for specific versions. Otherwise, we ship based on the product name.
Bols Genever Barrel Gin is the authentic aged Genever from Amsterdam, blended to perfection. For the true connoisseur, Bols Barrel Aged Genever is a limited production that is stored for over two years in oak casks from the French Limousin region. These barrels impart a pale golden color and a rich, oaky, sweet flavor to the genever. The heart of every quality Genever is malt wine – a rye, wheat and corn distillate triple distilled in copper pot stills, that is then blended with a unique bouquet of traditional Genever botanicals (hops, cloves, anise, licorice, ginger, juniper amongst many others).During the maturation process, the precious distillate undergoes a substantial change in color, fragrance and flavor under the influence of the young wood.
Medium body to heavy body, bready/malt like entry with lots of spice and some weight and mouth feel. Mild tingling on the lips and tongue with a long spicy and herbal finish that is slightly sweet. The Bols Genever is a blend of rye, wheat and corn that is triple-distilled in a copper pot still, then blended with the unique melange of botanicals that includes hops, cloves, anise, ginger and juniper, among others. The spirit is then aged in French Limousin oak casks for two years, which imparts vanilla and cinnamon spice and rounds out the body of the spirit.
Bols Genever Barrel Gin is the original Dutch spirit, created from lightly distilled Dutch grains and a complex botanical mix. It is made according to the original 1820 Lucas Bols recipe which stood at the basis of the cocktail revolution in 19th century America. It is the high content of a unique grain distillate called malt wine that gives Bols genever its characteristic smooth malty taste, making it perfect for mixing and making cocktails, such as the original Collins.