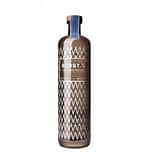 Bobbys Schiedam Dry Gin 750ml
Sale!
Bobbys Schiedam Dry Gin 750ml
-20%
Product images are for illustrative purposes only and may differ from the actual product due to label and design changes. Please contact us first if you are looking for specific versions. Otherwise, we ship based on the product name.
A Dutch gin which was launched in 2014, Bobby's Schiedam Dry Gin features a recipe inspired by the creator's grandfather, Bobby Alfons. It's made with a combination of local and exotic ingredients, including juniper, clove, lemongrass, cubeb peppers and rosehips. Highlighting the meeting of Dutch and Indonesian flavours in the spirit, This Gin comes in a bottle which harks back to the style of vessel used to hold jenever, with a pattern inspired by Indonesian designs.
Dry Gin is based on a recipe of Jacobus, better known as Bobby, Alfons. Eight botanicals are each distilled on their own before being blended together to create his namesake gin.
But Jacobus's story is an interesting one. An immigrant, he was born in Indonesia. Raised on the vibrant spices which once drove the Dutch to the Indies during the 17th and 18th century spice trade, he fell in love with Genever and began playing around with infusions, pairing the spices of his youth with Dutch spirits, just as the Dutch did long ago. In fact, students of gin might not be so surprised to hear that of all the gins I've had, this one most closely resembles the 2014 recreation of a 1495 gin recipe (Review Verbatim 1495)
Tasting Notes Of Bobby's Schiedam Dry Gin
Nose:
Earthy fennel and cut grass, with peppery whiffs of malt and juniper underneath.
Palate:
Floral as it opens with fresh rose, followed by a hint of red berry sweetness. Coriander gives it a fragrant spice throughout.
Finish:
Oily juniper and Christmassy clove.