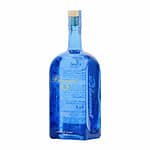 Bluecoat American Dry Gin 750ml
Sale!
Bluecoat American Dry Gin 750ml
-10%
Product images are for illustrative purposes only and may differ from the actual product due to label and design changes. Please contact us first if you are looking for specific versions. Otherwise, we ship based on the product name.
The Bluecoat American Dry distilled in a traditional copper pot still and is named after the uniforms worn by the militia in the American Revolution. The botanical recipe is kept secret however the style is a classic dry gin.
Made in the London dry style and packaged in a distinctive peacock-blue bottle, this gin has mild aromatics and fleeting sweetness on the palate chased by citrus, juniper, and spice. The finish is crisp and assertive, even slightly hot at 94 proof, but that won't matter once mixed into a tall gin-and-tonic or Tom Collins.
The original American Dry Gin, Bluecoat is unique in flavor profile and unsurpassed in character, 5 times distilled in small batches with 100% organic botanicals. Refreshingly sweet aromatics and a bright finish.
Bluecoat American Dry Gin launched in 2006 at the very beginning of the Gin Renaissance. Philadelphia Distilling was the first craft distillery to open in Pennsylvania since before prohibition. Ponder that for a second. Especially those of you from outside of the U.S, just what a deleterious effect prohibition had on American creativity.
So like a Revolution. Bluecoat American Dry Gin emerged with a bold flavor profile and began to stake a claim that this gin was American. American Dry.
The gin is distilled in a custom build copper pot still with organic juniper berries. As for the distinct citrus flavor they say they use  American "citrus peels not found in most gins."
Nose:
Pine needles, juniper, and a blast of citrus open up this dry gin.
Palate:
The juniper becomes more concentrated and the citrus element opens up into orange blossom and sherbet lemon.
Finish:
The finish is sweet with a final hit of zesty citrus fruit.
Overall:
A wonderful dry gin with refreshing citrus notes.