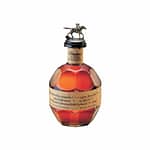 Blantons Single Barrel Bourbon 700 Ml Blanton
Sale!
Blantons Single Barrel Bourbon 700 Ml Blanton
-20%
Product images are for illustrative purposes only and may differ from the actual product due to label and design changes. Please contact us first if you are looking for specific versions. Otherwise, we ship based on the product name.
Blantons Single Barrel Bourbon
Blantons Single Barrel Bourbon,taken from the Centre-cut or middle sections of the famous Warehouse H, Blanton's Original was once designated for ambassadors, dignitaries, and Colonel Blanton's family and friends. Today, everyone has access to the world's first single barrel bourbon.
Product Description
Type: American Whiskey
Size: 700mL
Region: Kentucky
Alcohol Volume: 46.5%
Country: USA
Brand Name: Blanton's
Taste
Sweet with citrus and oak. A creamy vanilla nose features hints of nuts, caramel, orange and light chocolate. Blanton's Original set the standard for single barrel bourbons.
Nose:
The nose can best be summed up as really light. Light traces of grain, hay, new wood and citrus are present along with hints of dried fruit. While pleasant, it's definitely weaker than the Original Single Barrel Blanton's nose, which I normally find quite delicious and have a hard time pulling away from. Nothing really jumps out that makes me want to continue to nose this bourbon like I normally would with a glass of Original Blanton's.
Palate:
The first thing I notice when tasting this bourbon is a watered down slightly sweet palate. Traces of honey, citrus, vanilla, and a faint hint of pepper were noticeable. While pleasant it isn't very complex and the flavors seemed to disappear before I even finish swallowing a sip.
Finish:
While relatively short on this edition of Blanton's, the finish is much more present then the nose and palate. Traces of new wood are present, along with rye, a hint of leather, and what can best be described as fresh cut grass – the defining flavor that stayed with me until the finish dissipated.
Uniqueness:
This is a really interesting bourbon in terms of uniqueness. It's clearly aimed at individuals who don't like high proof bourbons or are just starting to drink bourbon. For all practical purposes, you're getting a watered down version of the Original Blanton's Single Barrel. One that is only sold overseas to boot.
Blantons Single Barrel Bourbon is the best served neat or on the rocks.