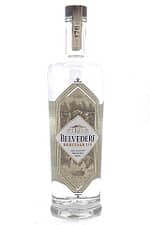 Belvedere Heritage 176 Vodka Mixed With Malted Rye Spirit 750ml
Belvedere Heritage 176 Vodka Mixed With Malted Rye Spirit 750ml
$95.00
Product images are for illustrative purposes only and may differ from the actual product due to label and design changes. Please contact us first if you are looking for specific versions. Otherwise, we ship based on the product name.
Belvedere Heritage 176 Vodka is quite simply a taste of vodka's past. Up until the 19th century, Polish vodka-makers relied on the old technique of 'malting', using fire-kilns to liberate enzymes from the rye's starch—a tradition which also naturally revealed rich and distinctive flavors. Over time, as the vodka category expanded and technology evolved, these old traditions sadly faded out, and vodka became more associated with neutrality. Belvedere challenges neutrality and believes that rye, the heart of our brand, delivers both distinctive taste and character.
To demonstrate this further, Belvedere has revived this traditional malting technique which unlocks rich depth, flavor and complexity that would otherwise remain hidden in the rye. Rich, full-bodied and complex, with hints of honey, walnut and allspice, Belvedere Heritage 176 Vodka is best savored over ice with a lemon twist.
Nose:
Intense baked rye bread and walnuts, enriched with notes of buttered toffee, shortbread and spice.
Palate:
A rich and velvety texture opens with a bold medley of toasted rye, macadamia nut and honey, accompanied by light creaminess and hints of sweet spice.
Finish:
Smooth and sumptuous with complex layers of nuttiness and mellow spice, perfectly balancing the natural sweetness of rye.