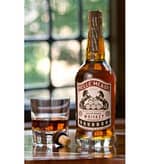 Belle Meade Sour Mash Straight Bourbon Whiskey 750ml
Sale!
5%
Belle Meade Sour Mash Straight Bourbon Whiskey 750ml
$94.96 
Product images are for illustrative purposes only and may differ from the actual product due to label and design changes. Please contact us first if you are looking for specific versions. Otherwise, we ship based on the product name.
Belle Meade Sour Mash Straight Bourbon Whiskey
In Keeping With The History Of The Brand And To Assure That Only The Finest Quality Bourbon Is Labeled Belle Meade Bourbon, We Painstakingly Select Barrels Sourced From The Nation's Finest Distillers. To Ensure That No Other Bourbon In The World Tastes Like Belle Meade Sour Mash Bourbon, We Created A Proprietary Blend Using Two Different High-Rye Content Mash Bills And Two Complementary Yeast Strains From the Barrels Aged Between 6 To 8 Years. Each Batch Of Our Proprietary Blend Consists Of Just 4 Barrels And Creates The Signature Flavor Profile That Makes Belle Meade Bourbon The Award-Winning Bourbon Of Choice For The Discerning Whiskey Drinker.
The High-Rye Blend Of Belle Meade Sour Mash Was Designed To Make It A Versatile Bourbon. It Shines Whether Served Neat, With A Splash, Or On The Rocks But It's Also Outstanding In A Well-Made Cocktail. The High Rye Content And 90.4 Bottling Proof Helps Belle Meade Bourbon To Stand Up To Mixers That Often Mask Other Bourbons, Thus Making It The Perfect Bourbon For Your Favorite Classic Or Craft Cocktail Creation.
Nose:
The nose begins with a hint of oak and rye spice. This quickly transitioned to an aroma much like freshly brewed sweet tea and raisins. A very attractive nose. Adding water to the pour ramps up the sweetness. Honey and caramel become present with subtle hints of brown sugar.
Palate:
This is very light and thin on the tongue. There is a floral sweetness with just a whisper of honey that lingers softly before a warm cidery-like tingle takes over. The addition of water softens and sweetens the overall flavors.
Finish:
Long finish, however extremely smooth. No burn was present on this one. A hint of sweetness comes through at the end. Also present is a light taste of melon, like honeydew or cantaloupe, in the finish. Again, unbelievable refreshing for a bourbon. Adding water did not change the long smooth finish or flavor profile of this bourbon.