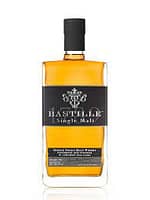 Bastille Single Malt French Whisky 750ml
Sale!
Bastille Single Malt French Whisky 750ml
-15%
Product images are for illustrative purposes only and may differ from the actual product due to label and design changes. Please contact us first if you are looking for specific versions. Otherwise, we ship based on the product name.
From the Bastille 1789 range (which also includes a blended whisky) comes a French single malt whisky crafted by Master Distiller Jean-Marc Daucourt. It's made with barley grown in the north-east of France, and finished in Limousin oak casks – which you're much more likely to see maturing Cognac than whisky! Subtly sweet with wafts of peat coming through.
Bastille is a french Single Malt made from spring barley grown in northeast France and naturally-filtered pure water. Its innovative distillation process combines traditional and cutting- edge techniques to express the natural characteristics of Bastille terroir, water and malt. This expression takes its delicate aromas and smooth profile from its maturation in Limousin Oak casks having previously aged some of the finest wines such as Sauterne, Burgundy, Sherry as well as a French Spirit.
A single malt whisky from Bastille, a French brand from Jean-Marc Daucourt, creator of Jean-Marc Vodka. Made entirely with malted barley from north-eastern France and aged in a variety of casks including Limousin oak, this has hints of sweetness and smoke.
Nose:
Malt, overripe apricots, cocoa, waxy red licorice, Honey Nut Cheerios, copper and intermittent bits of perfumy bubble gum, bergamot and a wee bit of spirit.
Palate:
Dried apricots, earthy malt, waxy licorice, cocoa, bergamot, Honey Nut Cheerios, copper and an ashy / burnt character. Some light touches of perfumy vanilla show up now and then. There is a slight young spirity aspect coming through now and then. It's not distracting, but it is worth mentioning.
Finish:
Medium fade of earthy malt, copper, dried apricot and bergamot.