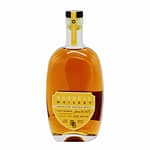 Barrell Whiskey American Vatted Malt 117.5 Proof 750ml
Sale!
15%
Barrell Whiskey American Vatted Malt 117.5 Proof 750ml
$195.00 
Product images are for illustrative purposes only and may differ from the actual product due to label and design changes. Please contact us first if you are looking for specific versions. Otherwise, we ship based on the product name.
Barrell Whiskey American Vatted Malt 117.5 Proof is Barrell Craft Spirits' first release in the category. Barrell Whiskey American Vatted Malt 117.5 Proof shifts its focus onto the world of American single malts with its American Vatted Malt. 
Milk chocolate-covered fruit chews show up first on the nose, alongside stewed fruits, lemon zest and chrysanthemum bud. The palate is dry and shifts between floral and herbal notes on the front, leading into a heavy dose of prunes, honey, and trail mix, highlighted by dried apricots, towards the back.
Classification: Whiskey
Company: Barrell Craft Spirits
Distillery: Distilled in New York, Texas, Indiana, New Mexico, Washington & Arizona
Release Date: August 2019
Proof: 117.5
Age: 1.5 – 8 Years
Mashbill: 100% Malted Barley
Color: Orange Copper
NOSE
Licorice, raisins, and baking spices rest on a bed of malted barley. A hint of smoke is also present. The proof is hidden behind the rich scents, though a trace of ethanol peeks through. Interesting and inviting.
PALATE :
Chocolate, tobacco leaves, lightly roasted malt, and seasoned oak alongside sweeter butterscotch and anise notes are the first to grab my attention. They fold over one another comprising the base. A smoky element further complements these flavors, and is joined by a nuttiness which helps round things out. The proof is well hidden, but shows through in the richness of the sip. It offers a creamy mouthfeel, making for a superb palate.
FINISH :
Spice pops first in the long finish, with raisins and anise lingering after the initial spike. By comparison, the finish is less complex than the palate, but still enjoyable overall.