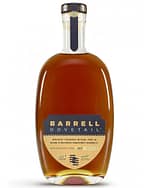 Barrell Dovetail Whiskey 750ml
Barrell Dovetail Whiskey 750ml
$224.98
Product images are for illustrative purposes only and may differ from the actual product due to label and design changes. Please contact us first if you are looking for specific versions. Otherwise, we ship based on the product name.
Barrell Dovetail Whiskey represents some of the company's most experimental blends, with various underlying whiskeys and combinations of finishing barrels comprising each unique batch. Dovetail follows Barrell Whiskey Batch 005, and according to the company took nearly a year to perfect.
This whiskey opens with mature aromas both sweet (canelé, panna cotta, crème de noyaux) and savory (walnut oil, leather). This is followed quickly by a vast array of fruit derived both from the spirit (smoked apricot, grapefruit peel) as well as the cask treatment (sloe gin, damson jam). The aroma is high toned, pungently floral and herbaceous, with subtle, balancing pops of minerality.
Tasting Notes Of Barrell Dovetail Whiskey
Nose :
Sweet robust aromas of candied raisins and molasses are present along with a hint of anise. A touch of heat shows evidence of the proof. It's intriguing and pleasant.
Palate :
The sip opens with cane sugar, molasses, and dark cherries – a pleasing combination of sweet, rich flavors. A touch of barrel char along with toasted marshmallows also come into play, countering the sweeter notes. Mouth-coating and noticeably robust, yet not harsh, the palate is a well-developed layering of flavors that's as satisfying as it is unique.
Finish :
Peppery spice kicks in at first, along with a touch of heat. Sweet sugar and toasted marshmallows follow, along with an essense of dark fruit. Long and warming it leaves a delicious aftertaste inviting another sip.