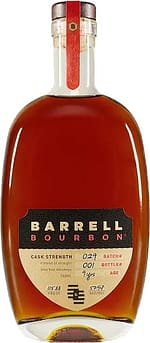 Barrell Craft Spirits Batch #029
Sale!
10%
Barrell Craft Spirits Batch #029
$214.98 
Product images are for illustrative purposes only and may differ from the actual product due to label and design changes. Please contact us first if you are looking for specific versions. Otherwise, we ship based on the product name.
Roasted pumpkin appearance flecked with bright gold. A classical opening of brown sugar-laced oatmeal and freshly conditioned leather on the nose. As you swirl a Glencairn glass, Williams pear, cantaloupe, and mulled wine develop. Curiously, from a rocks glass the evolution is more tropical, leaning rather toward tangerine, dried papaya, and mint tea with honeycomb. In either case, herbs soon follow — basil, dill, and wasabi powder. The aroma finally stabilizes into something resembling Pedro Ximenez sherry, displaying rosewater, treacle tart, and boiled cider. Unmistakably cask strength. A bright, pithy lime cordial note is rounded out by Mirabelle plum and sugar snap pea. Once the palate has acclimatized, more traditional flavors of affogato, molasses, and roasted mixed nuts emerge. A bold salinity tugs at the taste buds, calling soft pretzel to mind. As it fades, soft flavors of milk chocolate and shredded coconut wash over the palate.