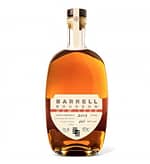 Barrell Cask Strength New Year Straight Bourbon 2018 750ml
Barrell Cask Strength New Year Straight Bourbon 2018 750ml
$244.98
Product images are for illustrative purposes only and may differ from the actual product due to label and design changes. Please contact us first if you are looking for specific versions. Otherwise, we ship based on the product name.
New Year, New Beginnings, New Traditions. To Celebrate The Spirit Of The Season, We Crafted This Limited Release Barrell Cask Strength Bourbon. We Mixed Together Barrels Of Different Ages And Mashbills, Comprised Of Reserves From Some Of Our Batches, And Other Choice Barrels Coming From 7 Distilleries In 5 States. Cheers To The New Year!
To celebrate the New Year, we've created Barrell Bourbon New Year 2019 Limited Edition. It's comprised of reserves from some of our batches and other choice barrels coming from 6 distilleries in 6 states. Throughout the year we set aside particularly inspiring barrels that we believe will make an interesting contribution to the New Year release. We do dozens of test blends to find the combination we believe to be the best and most interesting from our barrel inventory to make our New Year blend a truly unique expression.
A selection of 5, 7, 9, 10, and 14-year-old Straight Bourbon Whiskey barrels
Distilled in Indiana, Kentucky, New York, Tennessee, and Texas
Aged in Indiana, Kentucky, New York, Tennessee, and Texas
Crafted and bottled in Kentucky
111.2 proof cask strength bottling
Aged in American white oak barrels
Appearance:
Dark honey with ginger highlights. ​
Nose:
Rich, deeply fruited, and subtly spiced with slivered almonds, prunes, and black currents. Coffee notes are followed by soft oak, licorice, and vanilla flecked whipped cream atop hot cocoa, reminiscent of a finely aged Armagnac. ​
Palate:
Like your first bite of a cheerily iced gingerbread man and rounded out by Twix candy bar, hazelnut cappuccino, and fig jam. The mouthfeel grows syrupy as it sits on the palate.​
Finish:
Creme de menthe melting into cocoa with a dash of steaming black coffee.
Overall:
I went into this one not really knowing what to expect. As with all Barrell cask strength blends, it's more complex than the average whiskey you'd find sitting on the shelf at your local spot. After getting into it, it has a lot of familiar rye elements, but also some pleasantly surprising characteristics with the mint and caraway spice.