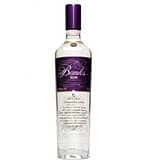 Banks 5 Island Rum 750ml
$92.98
Product images are for illustrative purposes only and may differ from the actual product due to label and design changes. Please contact us first if you are looking for specific versions. Otherwise, we ship based on the product name.
Banks 5 Island is a blend of five rums from distilleries in Trinidad, Barbados, Trinidad and Guyana. They add a little Batavia Arrack from Java and the result is a beautiful cocktail rum. Highly recommended. Banks 5 Island Blend Rum gets its backbone from Trinidad, its complexity from Jamaica, its zest from Guyana, and its spice from Barbados. The rum blender who created it headed East to uncover the rare ingredient that would deliver the last twist: the unique exotic aroma and exceptionally long finish of Javanese rum Batavia Arrack.
Banks 5 Island is a white rum inspired by the travels of 18th-century English botanist, naturalist and explorer Joseph Banks. In 1786, the intrepid explorer rounded the Pacific Ocean from Cape Horn to the Cape of Good Hope alongside the great navigator Captain Cook.
Tasting Notes Of Banks 5 Island Rum
Appearance:
Crystal clear.
Aroma:
The pungent aroma of arrack is immediately apparent on the nose, which along with Jamaican pot still rum gives 5 Island a spicy fruity aroma reminiscent of freshly cut passion fruit.
Taste:
Tropical fruit continues into the medium-bodied spicy palate with Matcha green tea, grassy, herbal and fresh parsley.
Aftertaste:
Dry, grassy and white pepper lingering spicy finish. Overall: The arrack in this rum makes it too pungent for lighter rum drinks such as the Daiquiri but is excellent in a rum punches – after all, punch bowls were originally made with arrack.