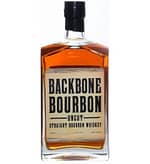 Backbone Bourbon Uncut Straight Bourbon 750 ml
Backbone Bourbon Uncut Straight Bourbon 750 ml
$112.98
Product images are for illustrative purposes only and may differ from the actual product due to label and design changes. Please contact us first if you are looking for specific versions. Otherwise, we ship based on the product name.
Backbone Bourbon Uncut is a company located in Kentucky that sources. MGP distillate and either barrel it in their own custom barrels or has MGP barrel it in their own barrels.  They then age it in one of 3 different warehouses to include MGP's own warehouses and then 2 different locations in Kentucky.
Deep Bronze & Ochre Color. Oaky Citrus Combine With Light Vanilla Spice & Orange Zest To Offer The Aroma Of Home-Baked Pie Crust. Creamy, Yet Rich And Earthy With A Crisp Edge. The Citrus And Vanilla Spice Hovers Just Long Enough For The Young. Uncut Whiskey To Bite Through For A Long Finish.
Backbone Bourbon Uncut was introduced to Indiana in 2012 and is still exclusive to the state. They are confident they will be around for a long time, and are picky about their distributors, as they should be. This bourbon is a tribute to the strength of character found in the people of the Midwest, the "Backbone of America."
Nose: 
The nose is incredibly deep.  As might be expected with 135 proof, the amount of ethanol is decent, but not insurmountable.  Those terrific MGP bourbon notes of dark brown sugar, heavy baking spices, caramelized pears and apples, buttered filo dough, and toasted oak all really point to this being a great nose.  We're off to a good start.
Palate: 
135 proof isn't going to drink like Buffalo Trace, and this one proves it with a giant wallop of Fireball candies.  This is spicy and hot and challenging but in a fun way.  There is lots of apple butter and cherry pie filling. What could've been a total mess of heat ends up being quite tasty and worth working past?
Finish:
Buttery gingersnap cookies mingle with sweet mint, cinnamon, black pepper flakes, and sweet oak.  Of course, the always present cinnamon is there just to remind you of the heat it brings.