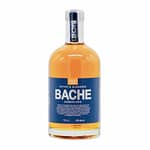 Bache Gabrielsen Vsop Cognac Natur & Eleganse 750 ml
Bache Gabrielsen Vsop Cognac Natur & Eleganse 750 ml
$135.00
Product images are for illustrative purposes only and may differ from the actual product due to label and design changes. Please contact us first if you are looking for specific versions. Otherwise, we ship based on the product name.
This Bache Gabrielsen Vsop Cognac is a blend of 75% Fins Bois and 25% Borderies cognac crus of France. These crus are ideal for the production of grapes used to make the cognac.
Bache Gabrielsen VSOP Cognac is a revered cognac house started in 1905. The "Natur & Eleganse" line is supposed to be a break from their classical line signified with a non-traditional, short, squat bottle and a flavor profile that highlights "no-nonsense," "frank and fruity characters." The four-plus-year-old brandy is all ugni blanc sourced from vines in mostly the Fins Bois, but also the Petite Champagne and Grande Champagne crus.
Once the grapes from these crus are harvested, they are pressed and the remaining grape juice is fermented in stainless steel fermentation tanks. The resultant Eaux de vie is then distilled twice through a traditional, alambic Charentais still.
Bache-Gabrielsen's cognacs are produced in a modern, light, fresh style, its richly fruited notes are deeply reminiscent of rustic life in Cognac.
VSOP stands for "Very Superior Old Pale" Cognac, which is crafted from Eaux-de-vie aged at least four years. Matured in oak casks for around 8 years this expression is pale gold in color, with fresh rich notes of bouquets of ripe fruit.  It offers rounded flavors with a distinctive, characterful finish.
very summery Natur & Eleganse VSOP presents beautiful wood notes to the nose mingled with fresh vanilla and lime flower flavors. The taste is rich and fruity, of nuts and citrus. We recommend drinking it as an aperitif, on ice, in a cocktail, or also ice cold in small glass shots with raw fish. In a more traditional way, this cognac is also very nice straight with dark chocolate or candied fruit.
Nose:
pear compote, cinnamon-dusted sultanas, overripe tangerine, and shredded tobacco.
Palate:
cinnamon, nutmeg, allspice, and ground black pepper.
Finish:
It offers rounded flavors with a distinctive, characterful finish.