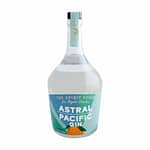 Sale!
Astral Pacific Gin 750ml
-5%
Product images are for illustrative purposes only and may differ from the actual product due to label and design changes. Please contact us first if you are looking for specific versions. Otherwise, we ship based on the product name.
All gins start with a base spirit. Typically, it is grain-based and industrially manufactured to be as flavorless as possible. Astral pacific gin's base spirit is made from clementines, and is purpose distilled to subtly retain some of the character of its source fruit.
With a silky texture and a slight lingering sweetness, its proprietary distillate allows our head distiller to compose a gin with structure, a longer finish, and greater definition of component flavors.
Astral Pacific Gin is in the classic style, while welcoming some novel flavors to the mix. Pink peppercorn (native to southern california) and pistachio compliment quintessential gin botanicals such as juniper, coriander, cinnamon, and angelica.
To achieve a warmth and balance, two varieties of juniper are used: both juniperus communis and its earthier, local cousin, juniperus californica. The nose is balsalmy, full, and juniper-forward. Spicy notes of pink peppercorn carry across the tongue, yielding to a bright citrus finish.
Botanicals: juniper, coriander, angelica, cinnamon, grapefruit peel, clementine peel, orange tree leaves, pink peppercorn, pistachio, sage, orris root.
Nose:
The gin has a fragrant aroma of pine trees and fresh orange juice followed by an herbaceous note of oregano and a bright hit of clementine.
Palate:
On the palate the gin is medium bodied and a little hot on the tongue. The flavors start with spicy notes of of juniper and black pepper which is balanced with a light orange sweetness.
Finish:
On the finish the citrus character carries through with lingering flavor of grapefruit peal and a light bitter pith sensation.