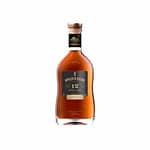 Appleton Estate Jamacia Rum 12 Year Old
Sale!
Appleton Estate Jamacia Rum 12 Year Old
-5%
Product images are for illustrative purposes only and may differ from the actual product due to label and design changes. Please contact us first if you are looking for specific versions. Otherwise, we ship based on the product name.
Appleton Estate Jamacia Rum 12-year-old Jamaica Rum is aged for a minimum of 12 years in oak barrels and is touted as an unsurpassed masterpiece of oak aging. Appleton Estate 12-year-old Jamaica Rum is a bold and confident rum that should be enjoyed straight-up or on the rocks.
Rare Blend is the new name for Appleton 12 Year Old Extra. Distilled in traditional copper pot stills, Rare Blend is a superb blend of rums, many of which have been aged for at least 12 years.
Appleton Estate Jamacia Rum Rare Blend 12 Year Old is a 'minimum age' rum as indicated by the number 12 displayed on the bottle. The rum is aged in Number One Select American Oak barrels.
And if you're generous enough to bring it out to share with friends, then you're probably generous enough to know you're going to have to go out and get some more. Sit back and enjoy, knowing that you're having one of the world's truly exceptional spirits.
Dazzling and bright rich bronze color. Mature scents of walnuts, nutmeg, orange peel, and vanilla. Delicate molasses, Vibrant orange peel, Rich Vanilla, Subtle coffee and cocoa, Toasted oak, Hint of almond. Buttery, creamy brown sugar. Bittersweet and luscious.
A world-class spirit bouquet with wonderfully melded and balanced scents of bacon fat, walnut butter, buttered corn on the cob, oak resin, and marzipan. Palate entry is dusty, dry, and buttery; the flavor goes full-throttle at midpalate with buttery, creamy, brown sugar, and rancio-like tastes. The finish is savory and bittersweet.
Nose:
Thick, nutty, spicy. Vanilla, butter.
Palate:
Rich, creamy, molasses, biscuity.
Finish:
Long, rich, oaked.