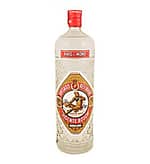 Sale!
Anis Del Mono Dulce 70cl
-10%
Product images are for illustrative purposes only and may differ from the actual product due to label and design changes. Please contact us first if you are looking for specific versions. Otherwise, we ship based on the product name.
The Anis Del Mono Dulce Factory was founded in Badalona, Spain in 1870. Anís del Mono takes its name from a small monkey that was given as a gift to the liqueur's creator, Vicente Bosch. The label itself is famous for two reasons. The first is because of the misspelling of the word distillation in Spanish. The second reason the label is famous is because of the very humanoid monkey featured in the center that bears some resemblance to Charles Darwin.
The natural grain of aniseed and other aromatic plants are distilled in copper stills to obtain the essential oils, together with cane sugar, distilled water, and top quality neutral alcohol that compose the anise. Later, the mix is lightly shaken, filtered, and bottled.
To make the colorless, Anis del Mono Dulce, natural aniseed is distilled in copper stills with other aromatics in order to obtain only the essential oils. These oils are mixed with sugar cane, demineralized water, and neutral alcohol before being shaken, filtered, and bottled. The artisanal method of making this liqueur has not changed over the past 145 years.
The beautiful diamond-cut bottle was inspired by a perfume bottle that Bosch gave as a gift to his wife. In Spain, this bottle is sometimes even used as a musical instrument! To drink Anís del Mono Dulce in the traditional manner, try it with water and ice. It can also be enjoyed neat, on the rocks, or mixed with either brandy or coffee. Its gentle, full aroma is sure to draw you in.
Anis del Mono Dulce is sweet anisette made using natural anise seeds together with ingredients such as green anis and saccharose. These special ingredients give it qualities that are famous throughout the world.
Color:
Crystal clear, bright, and transparent.
Flavor:
anise aroma Soave.
Taste:
pleasant, sweet, and persistent.