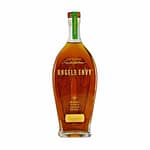 Angels Envy Bourbon Whiskey Finished In Port Cask 750ml
Sale!
20%
Angels Envy Bourbon Whiskey Finished In Port Cask 750ml
$123.00 
Product images are for illustrative purposes only and may differ from the actual product due to label and design changes. Please contact us first if you are looking for specific versions. Otherwise, we ship based on the product name.
Angel's Envy Bourbon Whiskey
Angel's Envy was founded by Wes Henderson, son of late industry icon Lincoln Henderson. Before his passing in 2013, Lincoln worked selecting and blending whiskeys for Angel's Envy. Angel's Envy whiskeys made their first appearance in 2011 and we've seen three ongoing expressions so far. Cask Strength Bourbon Finished In Port Barrels, Bourbon Finished In Port Barrels, and Rye Finished In Rum Casks. In early 2015 the Angel's Envy Bourbon Whiskey was acquired by Bacardi Ltd, and in November of 2016 the company opened their Louisville Distilling Company location in downtown Louisville.
Angel's Envy Bourbon Whiskey Port Finish is blended in small batches of 8-12 barrels at a time. The company states that the bourbon is typically aged up to 6 years. And then is finished in ruby port wine casks for an additional 3-6 months. For the finishing process, the company uses 60 gallon ruby port barrels made from French oak which are imported directly from Portugal.
Nose
Light oak, vanilla, and the slightest touch of berry jam drift upwards. Mingled in are peanut shells, and a touch of sweet syrup. The bourbon's 86.6 proof is doing it no favors here, as the scents are light, and focus must be honed in to be able to sift through what is present.
Palate
Muted vanilla, light oak, and leather swirl together and are joined are dashes of green peppercorn and syrup-soaked raisins. For being finished for 3-6 months, you'd expect more of an impact from the port barrels. However, this isn't the case. While the flavors present are nice, the mouthfeel is on the thinner side, which detracts from their impact.
Finish
Oak, faint hints of rye spice, vanilla, and light berry jam quickly leap up and almost as quickly fade away. Left behind are faint dry oak and a lingering light spice. The combination of flavors is a perfectly fine way to end, and truthfully, is one of the more memorable parts of the sip due to the fading spice. Much like the rest of the sip, it leaves you wanting for just a bit more impact.